Interfaces Utilisateurs Vocales Introduction
BrestJS @BrestJS - Alex Nicol @nicol_alexandre
voice2018.webnicol.fr
Me
Alex Nicol - @nicol_alexandre - Github
Developer @ Digital Innovation team // EDF Energy R&D UK Centre
Web / Mobile / AR / Chatbots / Blockchain
Interfaces Utilisateurs Vocales ?
What is VUI?
Interfaces Utilisateurs permettant l'accés à des informations en utilisant la voix.
20,000,000+
Echo devices sold
10,000,000+
Google home devices sold
Advantages
Rapide
Mains libres
Intuitive
"La voix parle pour elle même"
Maximes de Conversations réussies (Paul Grice "Logic and Conversation" 1975)
Qualité (Ce que vous pensez être vrai)
Quantité (Autant d'information que nécessaire, mais pas plus)
Pertinence (Ne parlez que de ce qui est pernitent)
Clarté (Il faut pouvoir être compris par les autres)
Bonne pratiques
Contexte
Marqueurs discursifs
"Fail gracefully"
Gérez les attentes de vos utilisateurs
Ce n'est pas la faute de l'utilisateur
Aidez les novices
Help/Repeat/Previous
"Wizard of Oz"
"No screen? No problem!"
Intéractions courtes (Surchage cognitive)
Feedback/Rapidité
Language humain-humain
Correction/Confirmation
Evitez les lists longues
HANDS ON!
Créeons une Google Action pour le Cinéma Les Studios!
I: Hello World (+ Setup)
II: New Intent + Deep Linking
III: Dialogflow entities, prompts, actions + actions-on-google SDK
IV: Firebase functions + Webhook + Fulfimment
Toolbox:
JavaScript / Node.js basic knowledge
Firebase + Firebase CLI
Dialogflow
Google Actions Developer account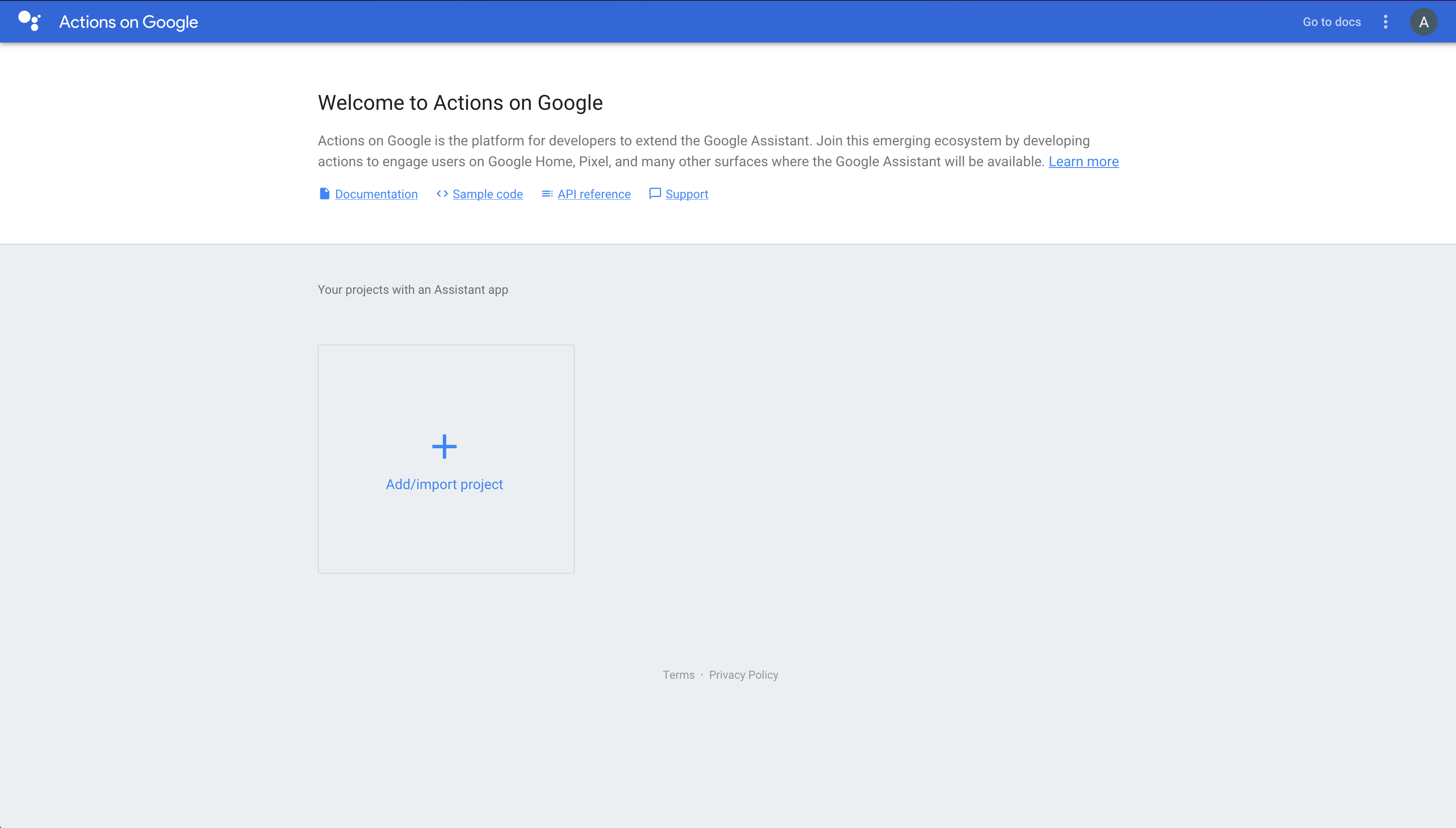 Actions on Google
Console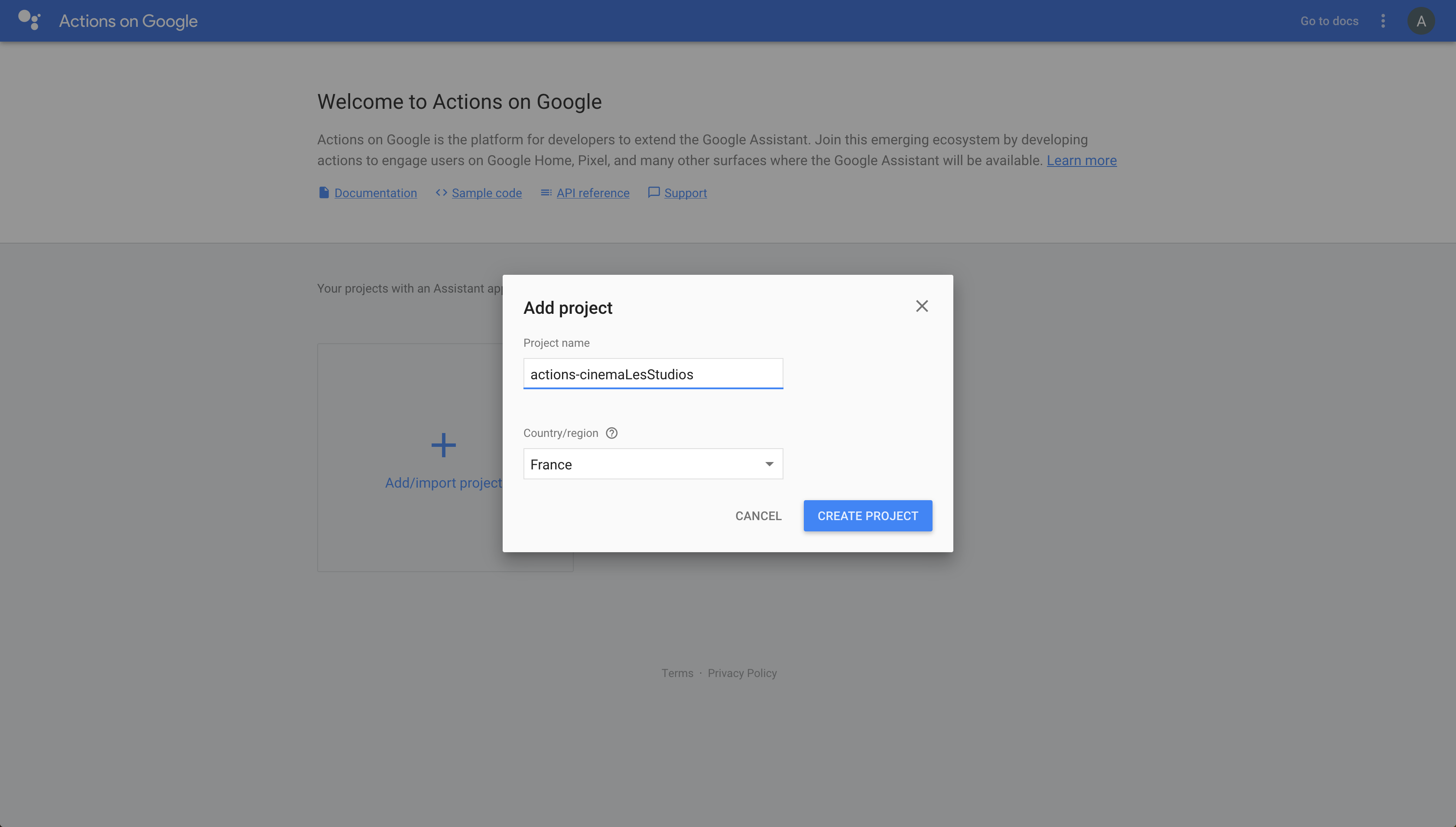 Actions on Google
Créez un nouveau projet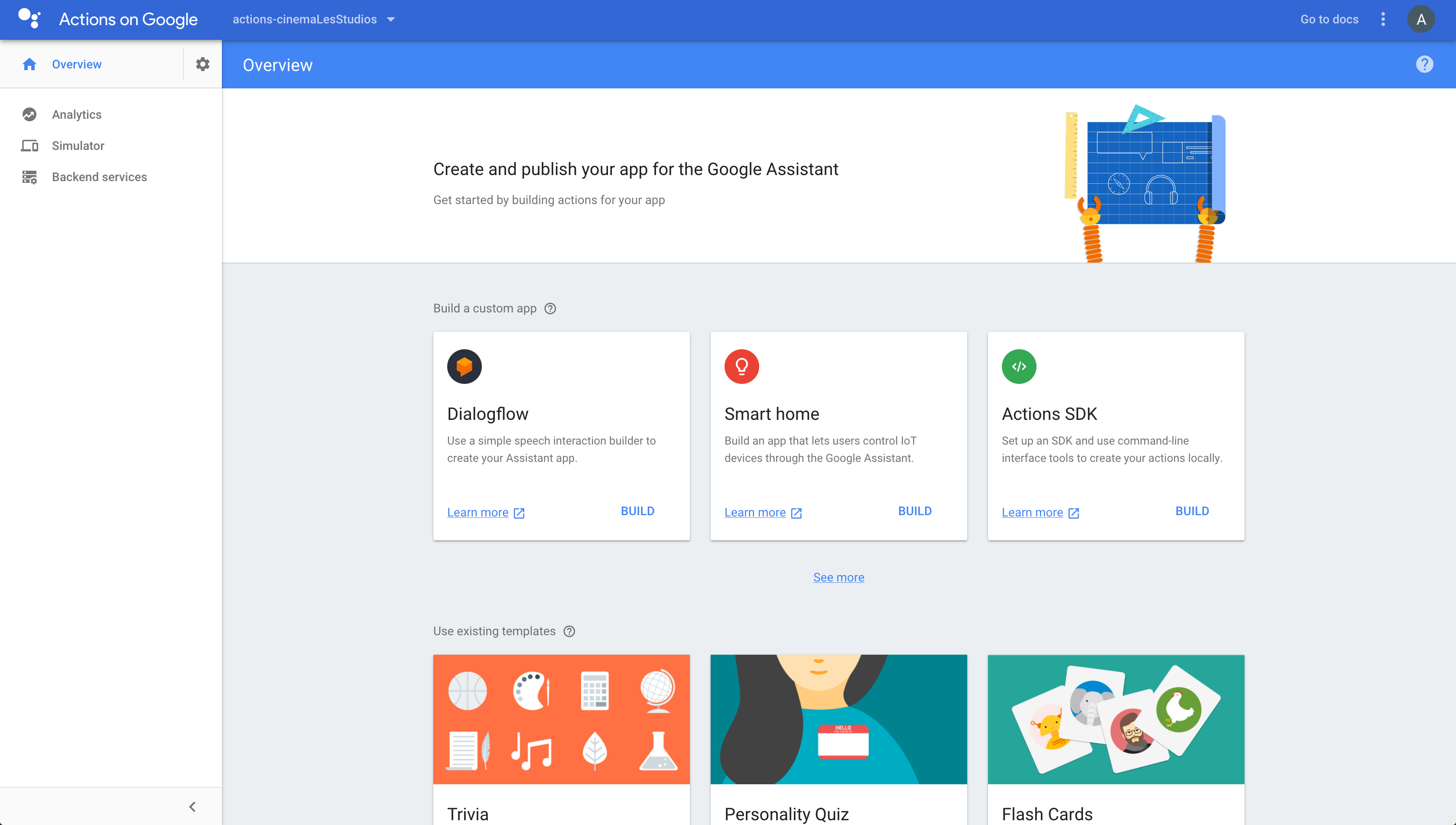 Actions on Google
Selectionnez Dialogflow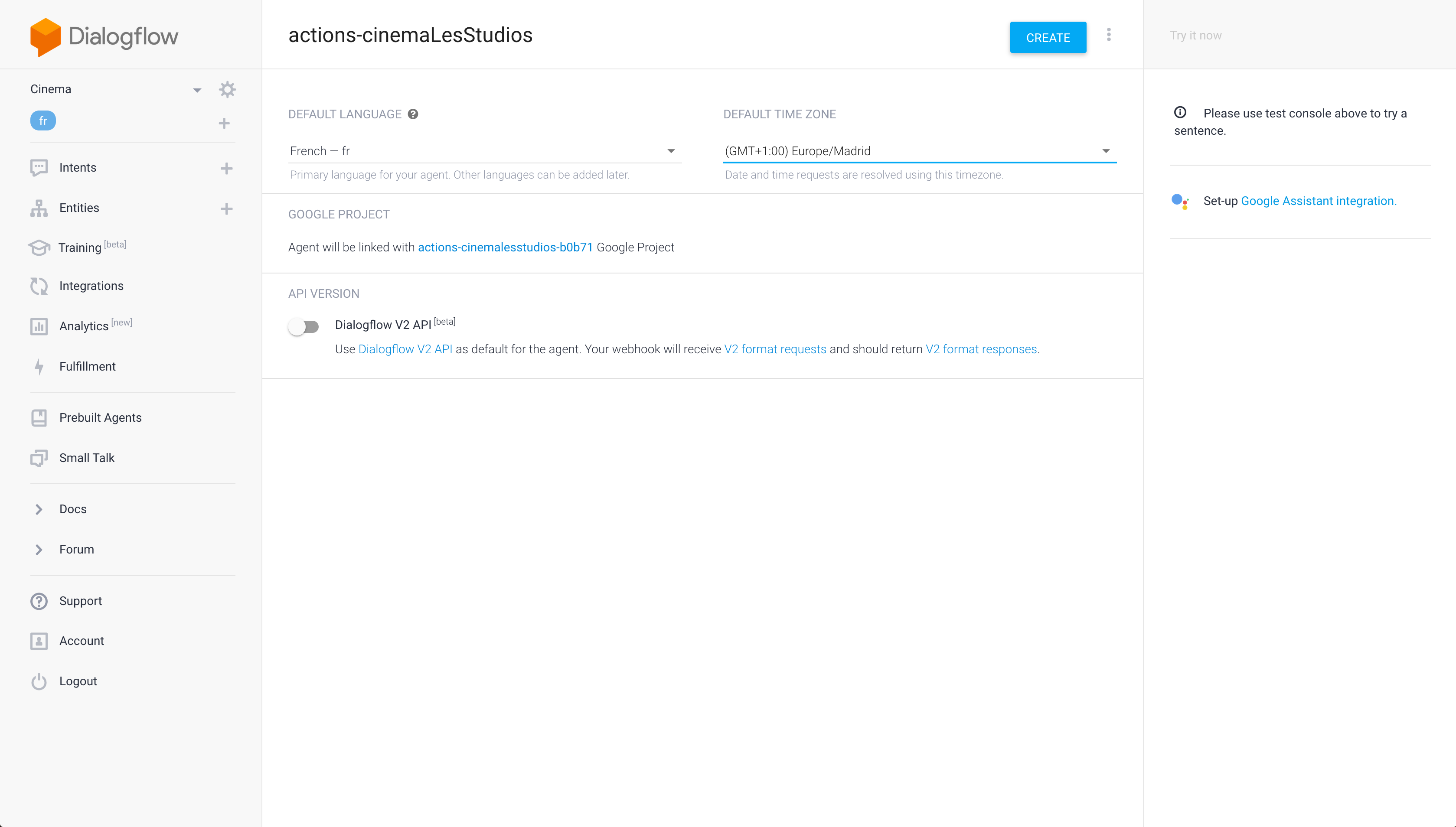 Dialogflow
Créez votre agent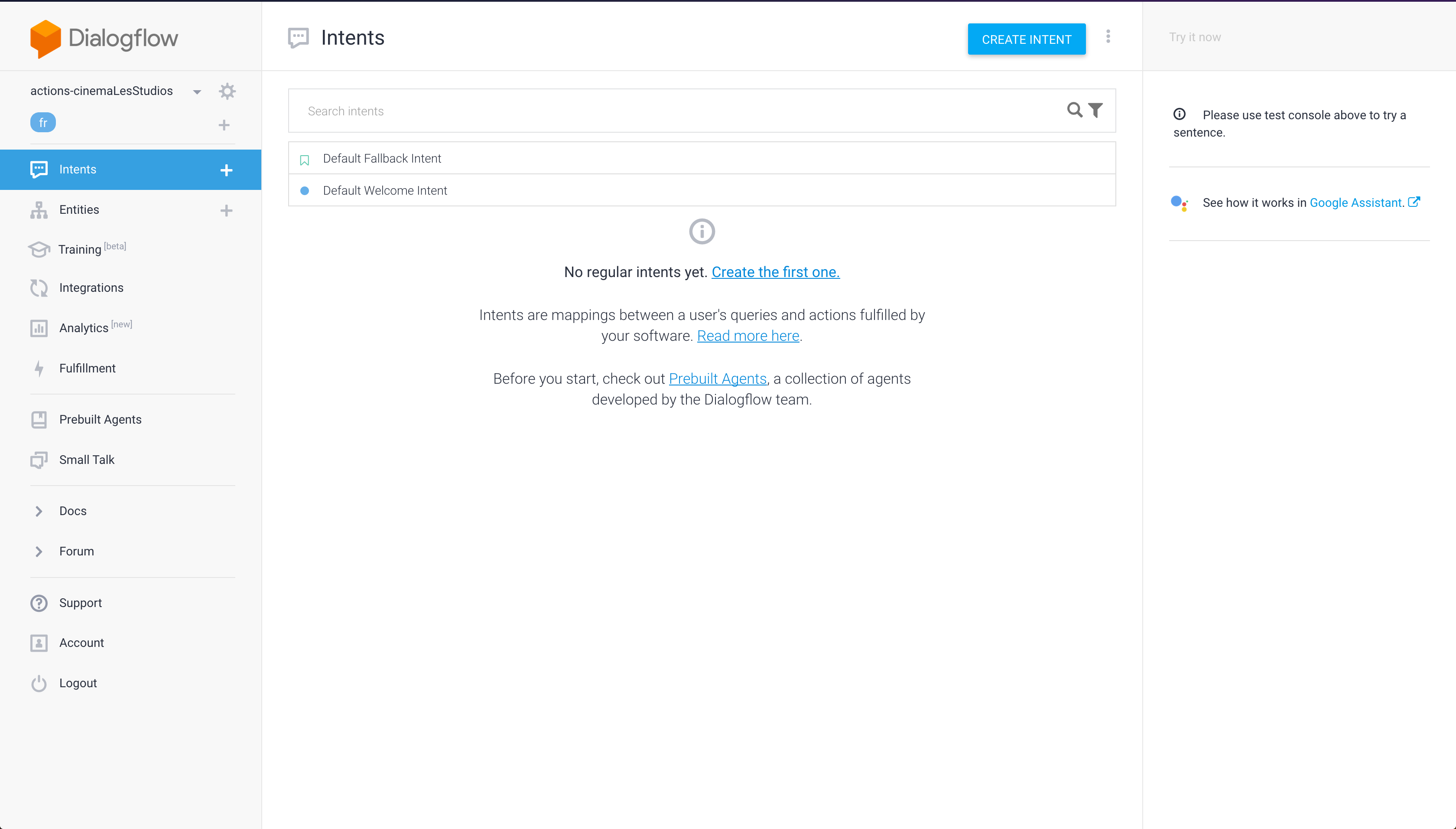 Dialogflow
Intents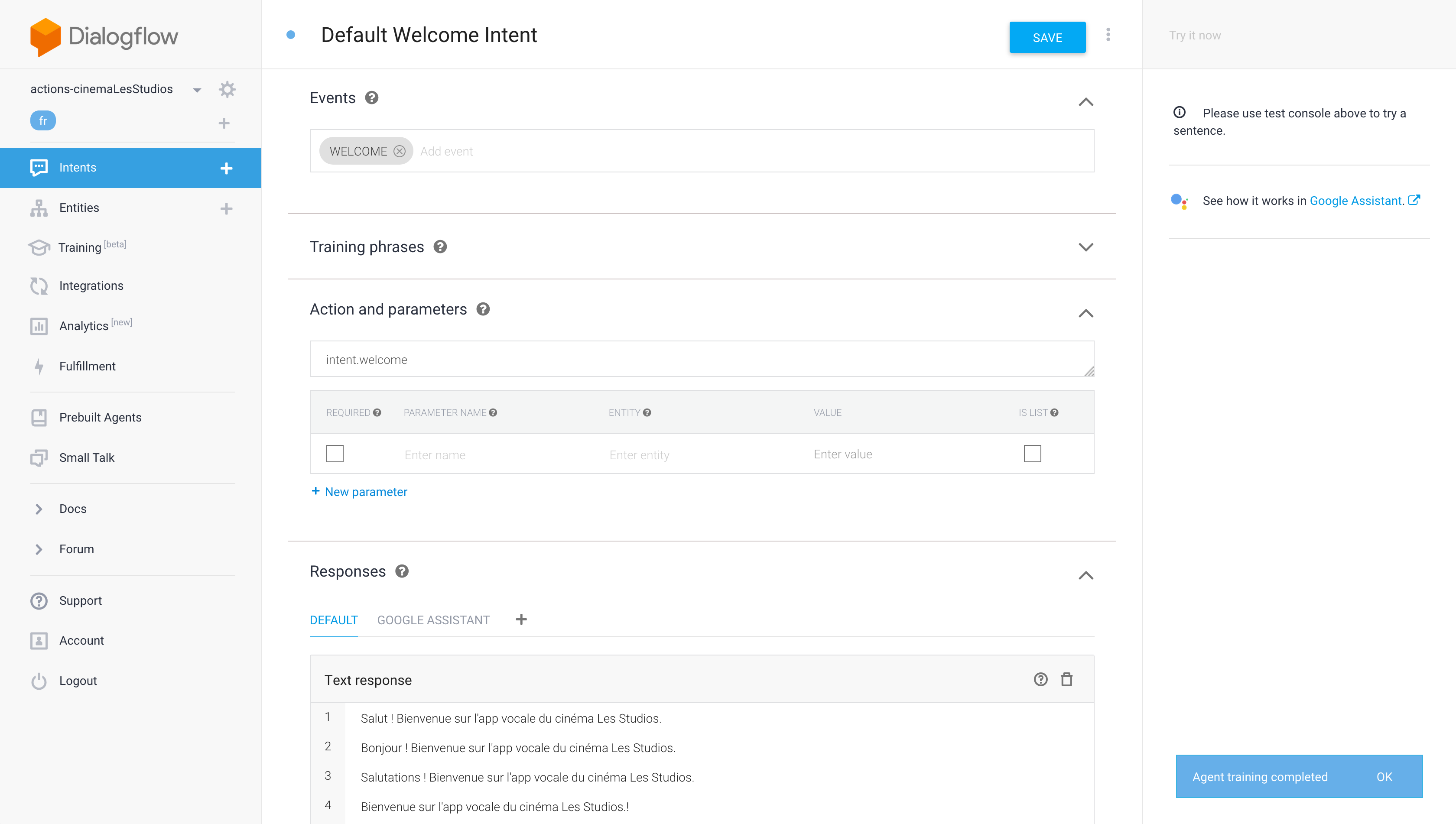 Dialogflow
Hello World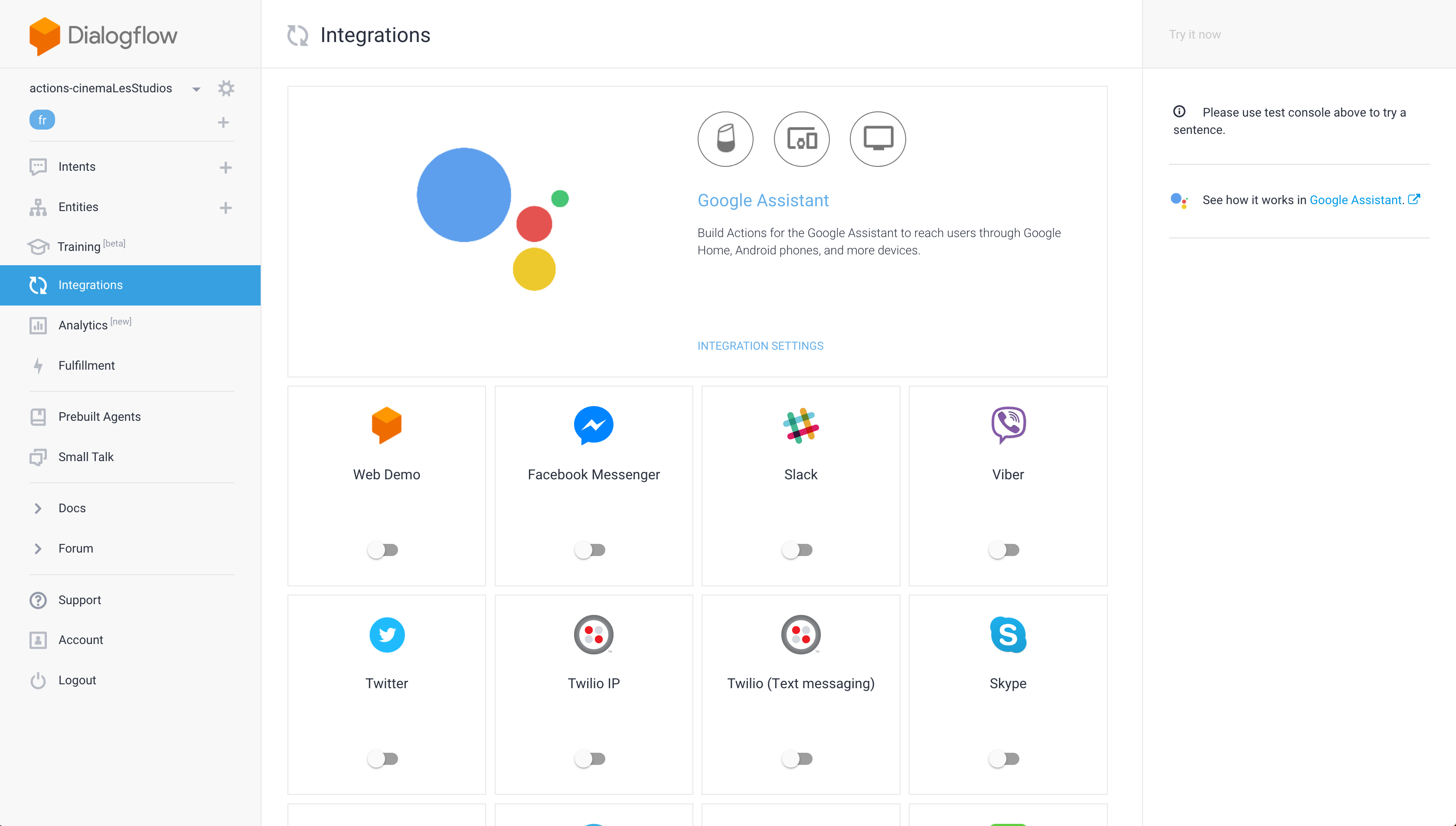 Dialogflow
Intégrations 1/2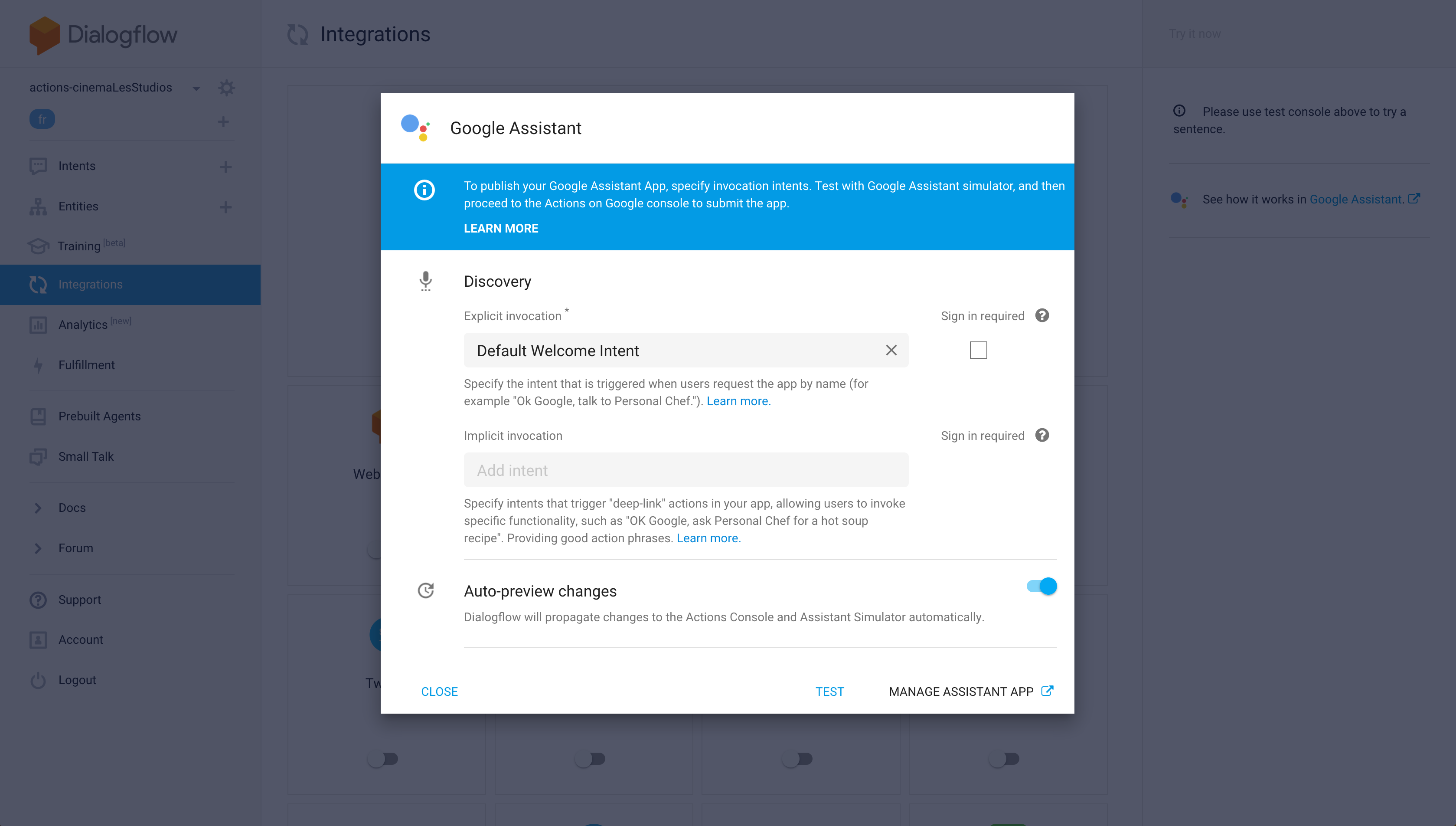 Dialogflow
Intégrations 2/2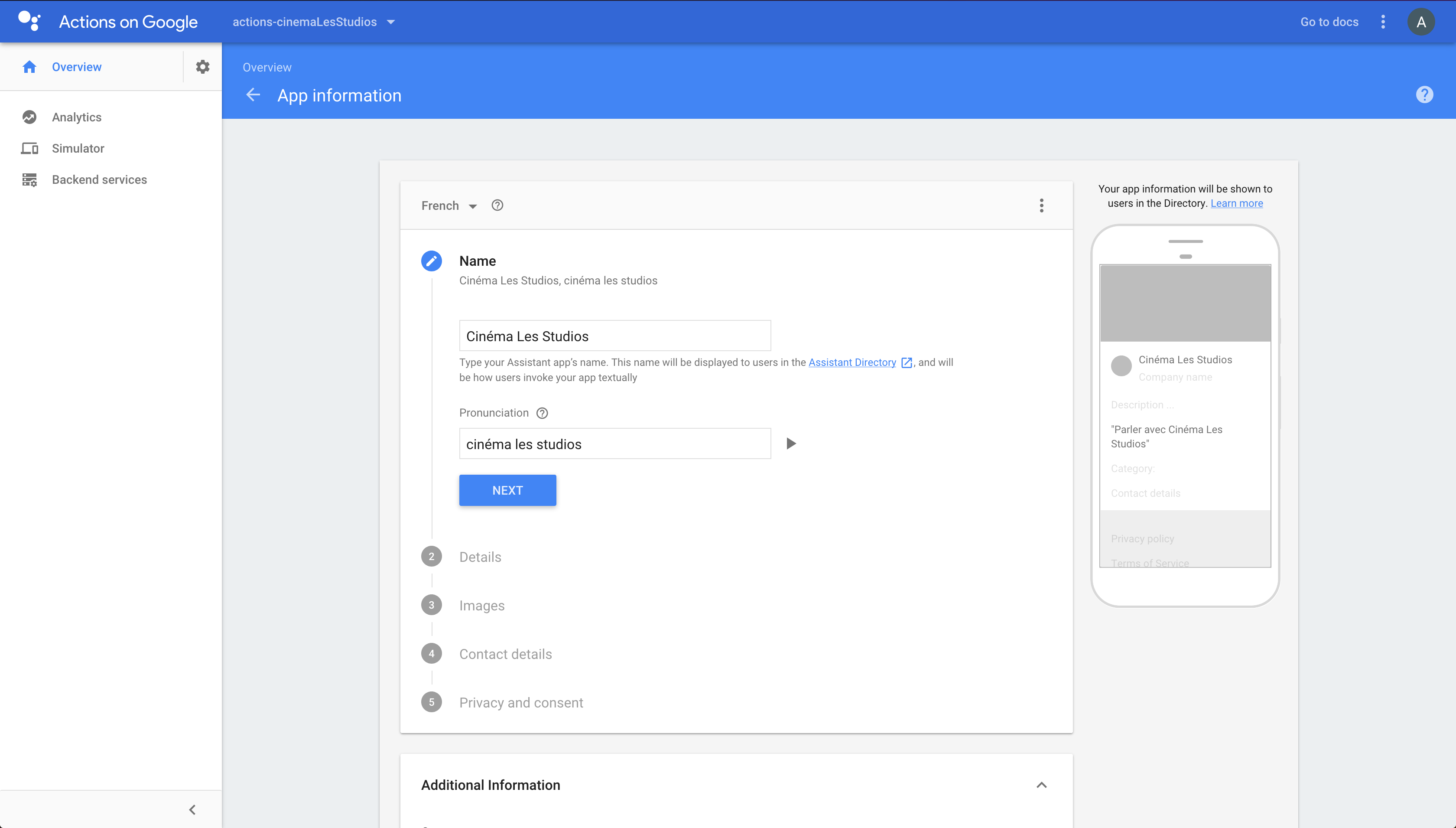 Actions on Google
App Info 1/2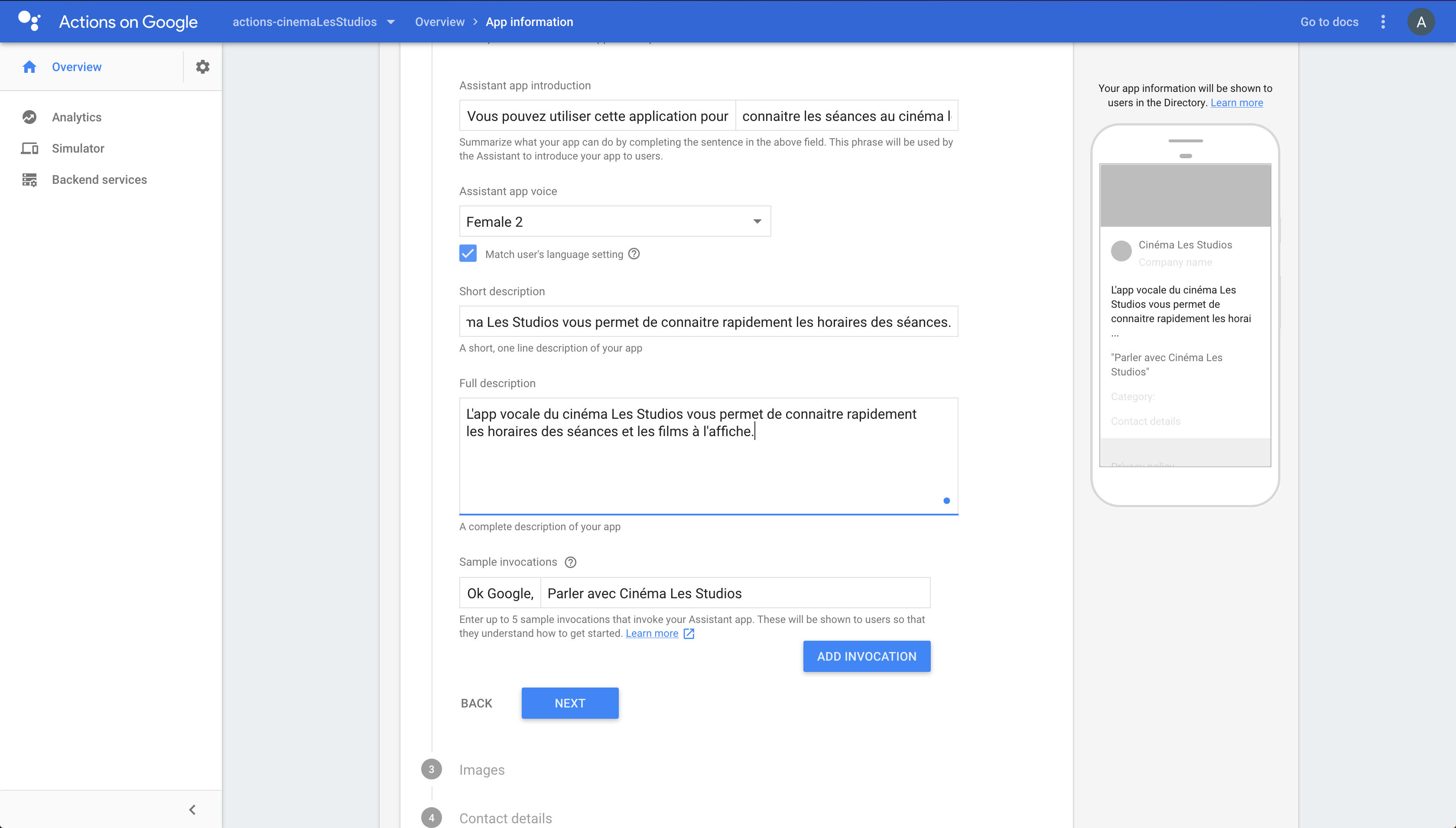 Actions on Google
App Info 2/2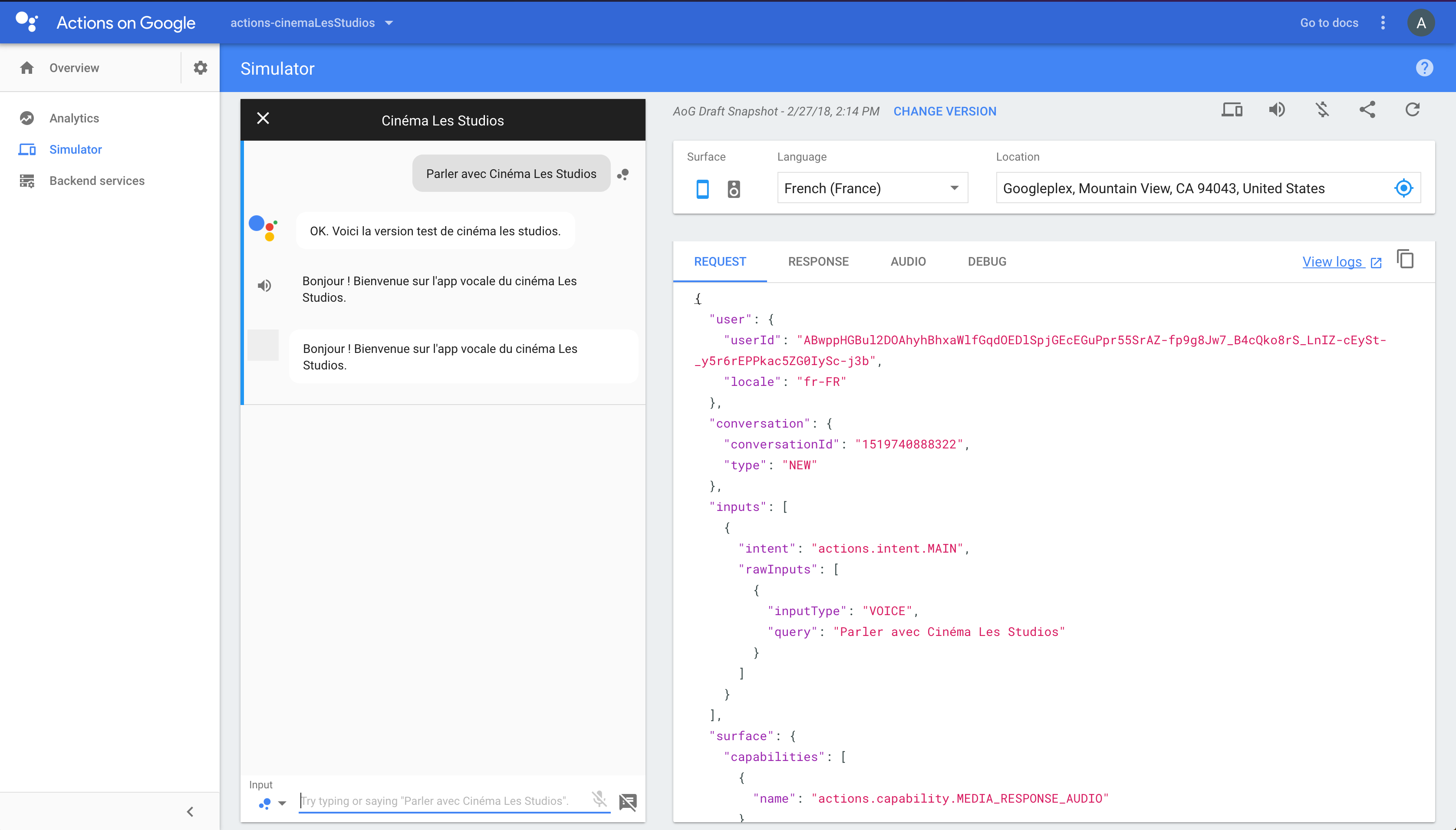 Simulateur
II: New Intent + Deep Linking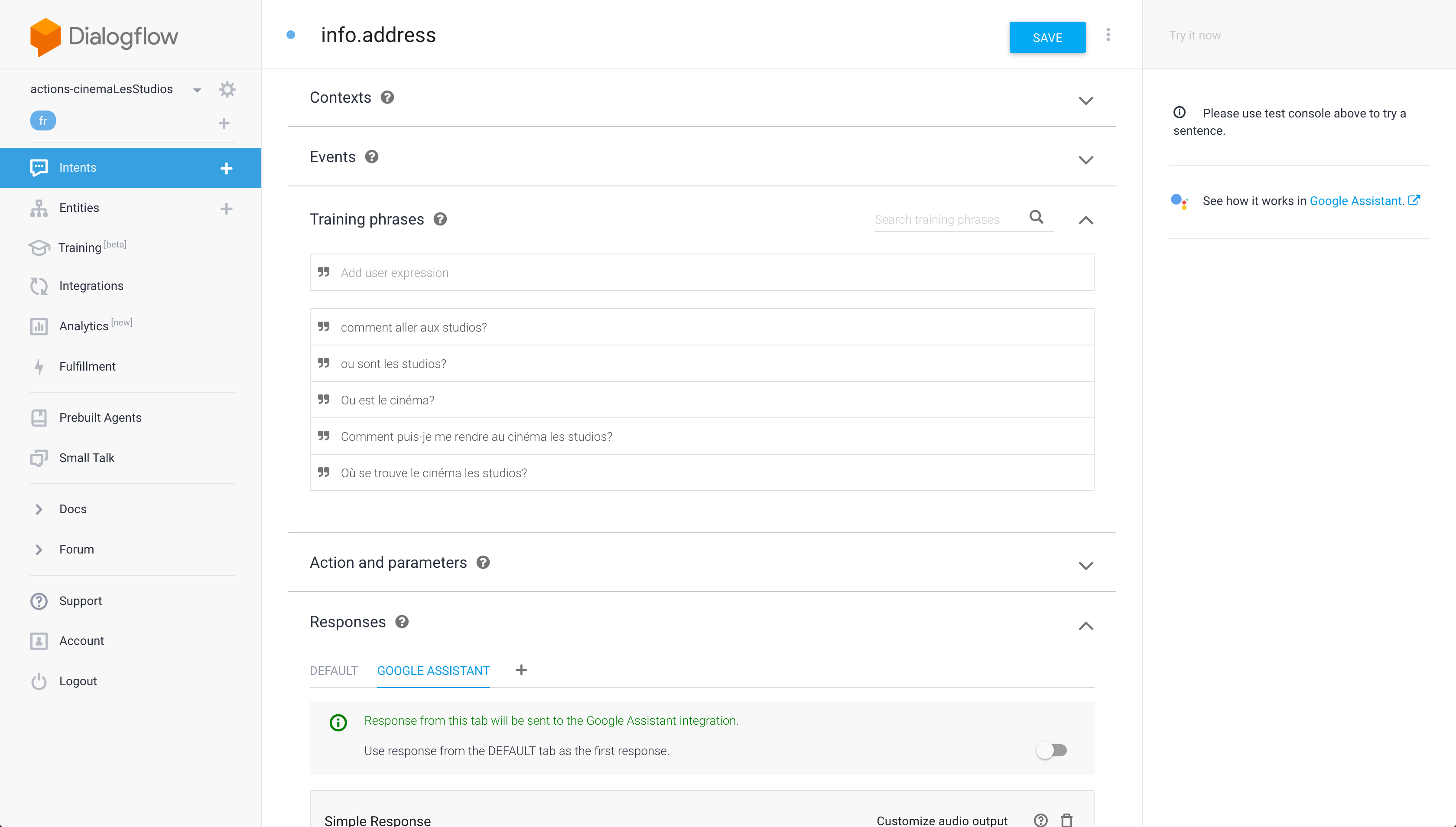 Dialogflow
New Intent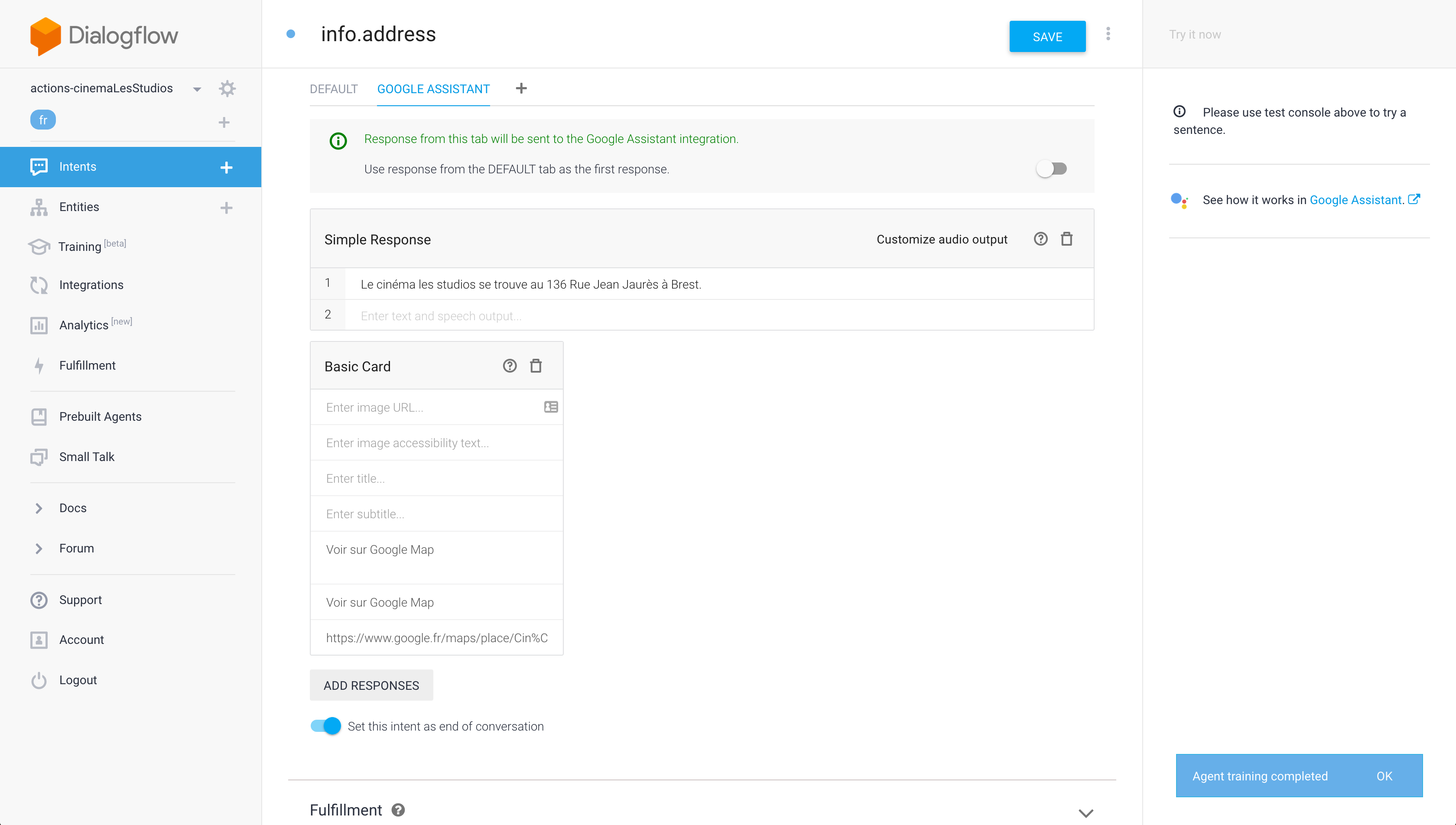 Dialogflow
Augmented Responses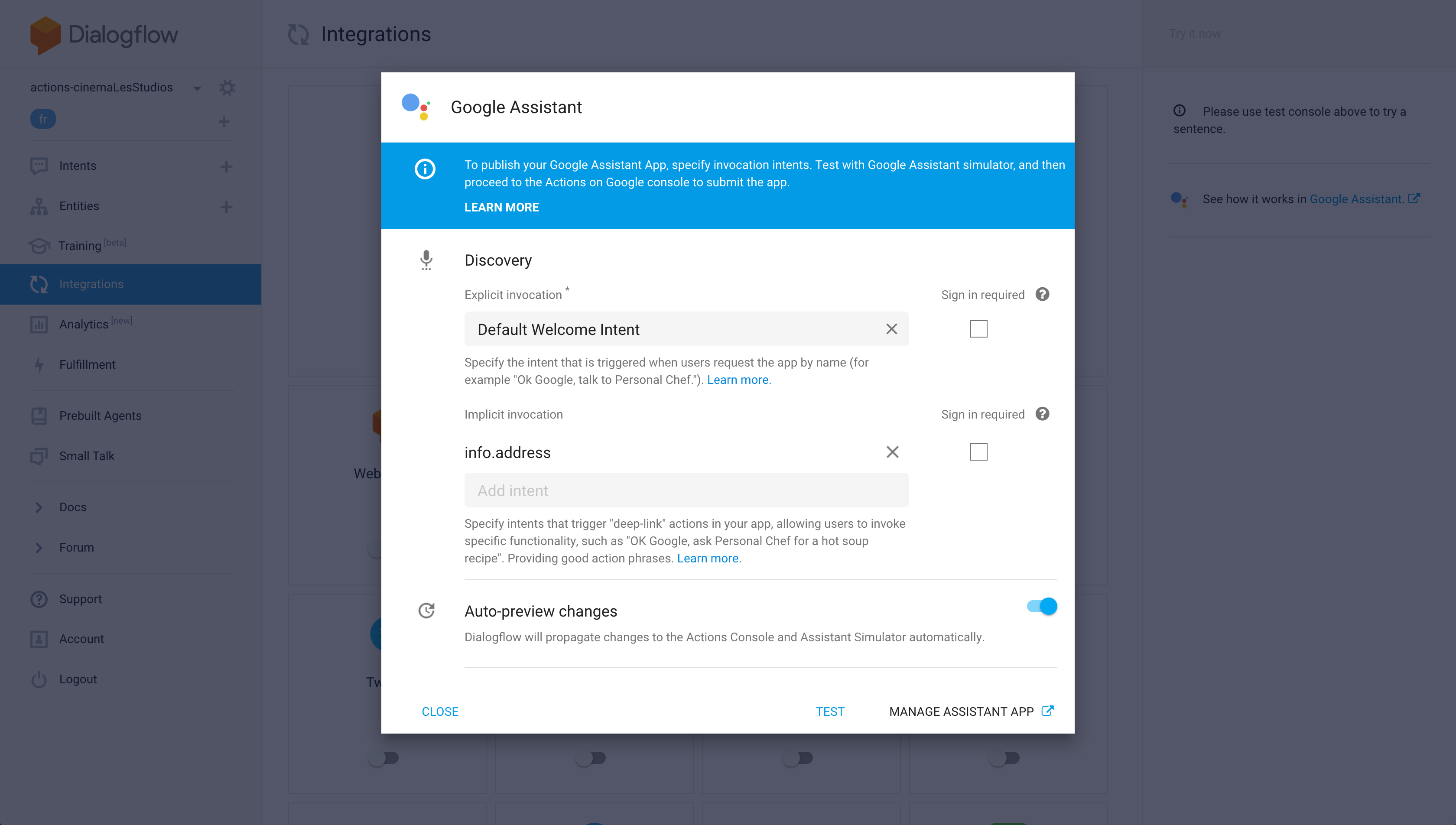 Dialogflow
Deep linking
III: Dialogflow entities, prompts, actions + actions-on-google SDK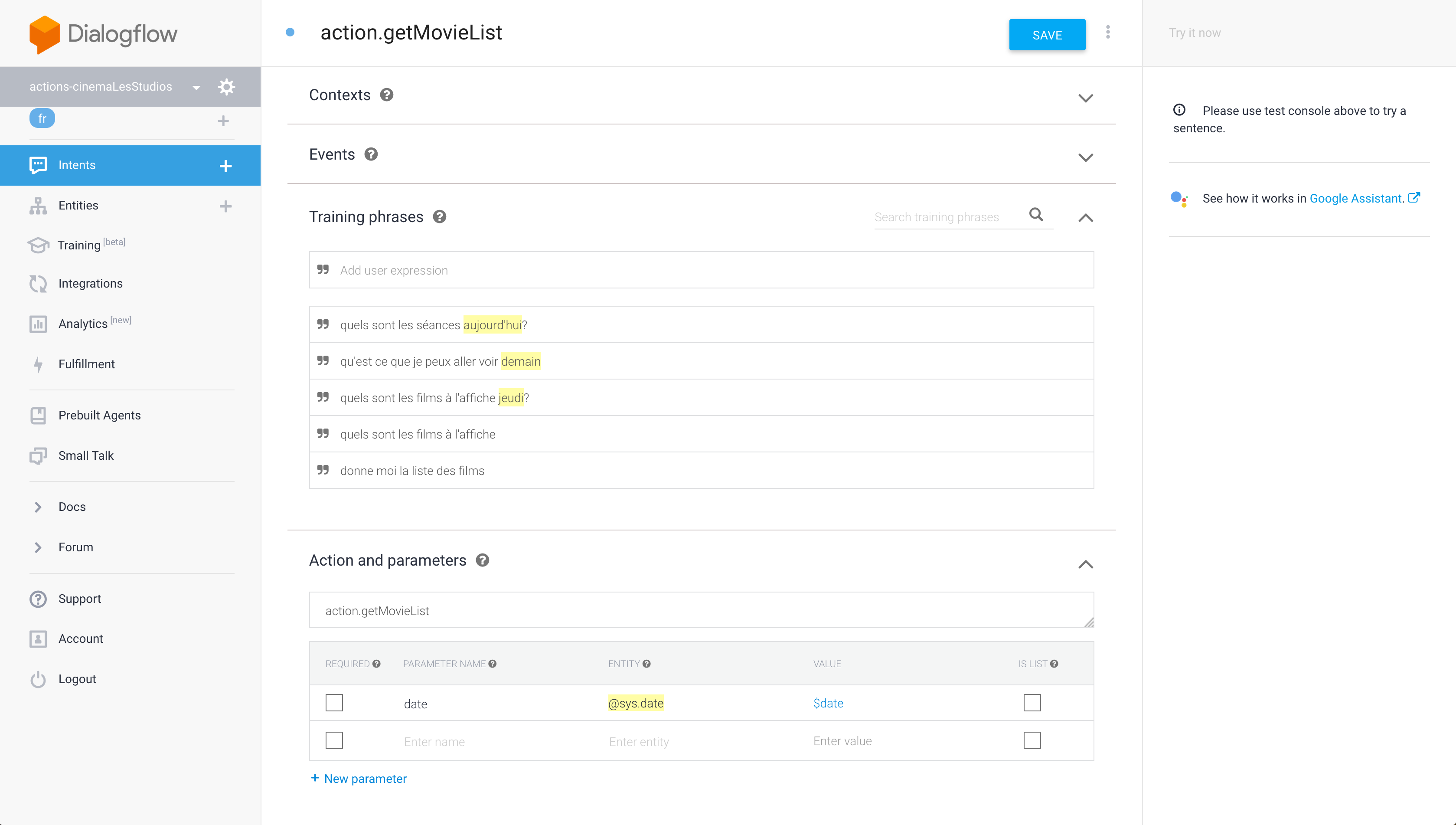 Dialogflow
Actions - Entities - Prompts
IV: Firebase functions + Webhook + Fulfimment
mkdir lesStudios

npm install -g firebase-tools

firebase login --reauth

firebase init // select functions

cd functions/

npm install --save actions-on-google

// code

firebase deploy --only functions // be sure you get the function URL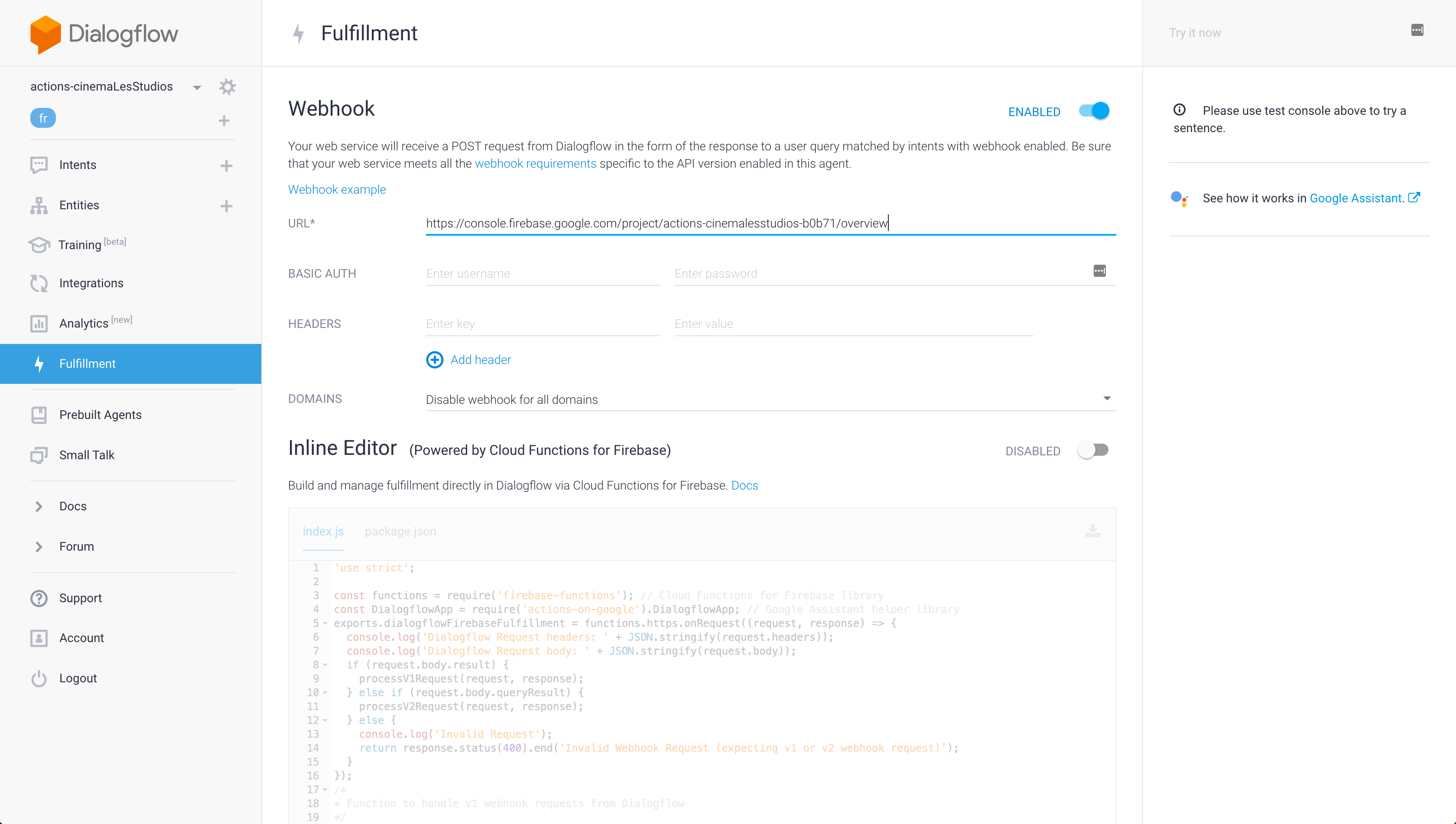 Dialogflow
Webhook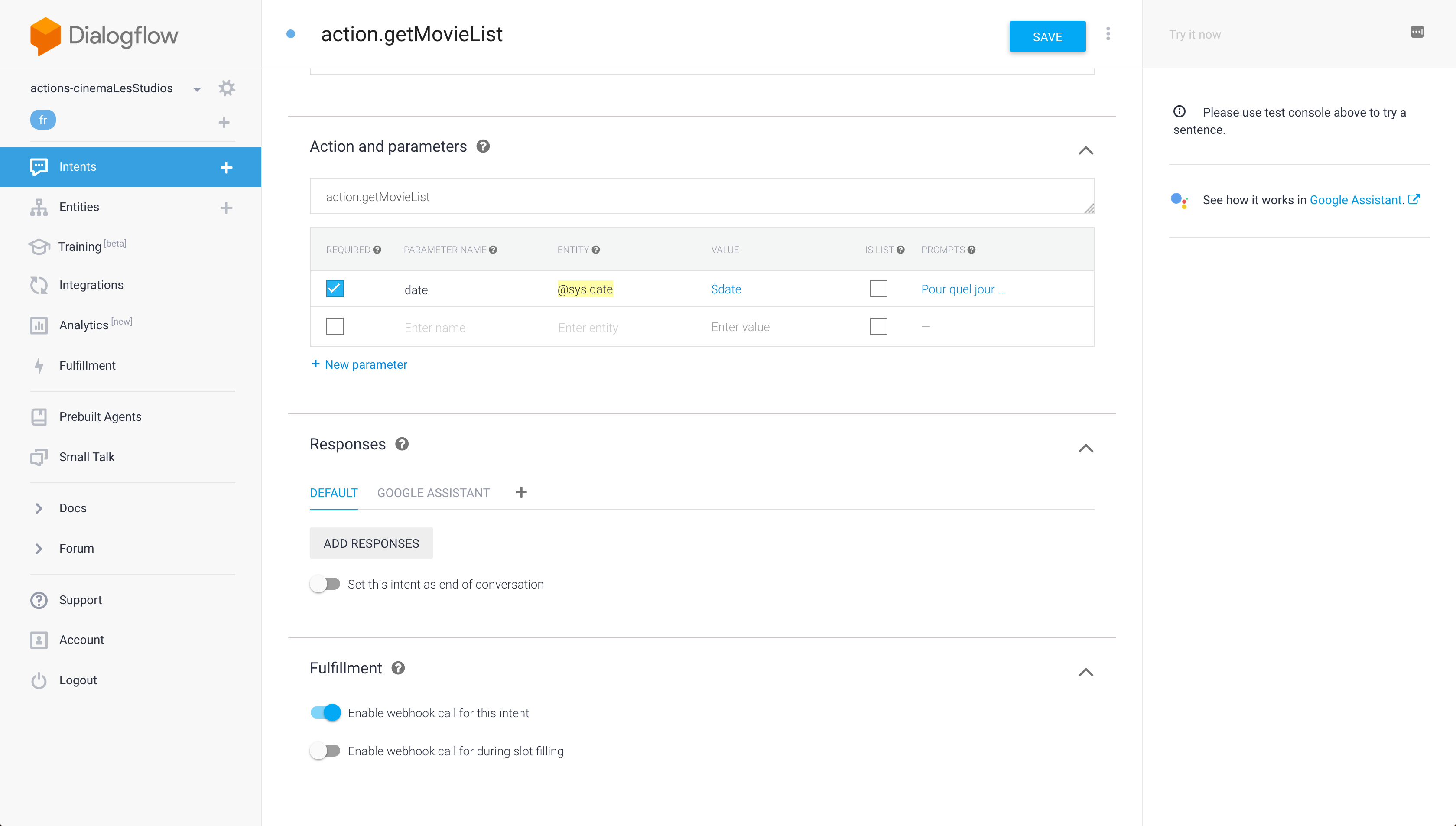 Dialogflow
fulfillment
Reminders about VUI
• "Will your users benefit from a VUI?" • "Cognitive load" • "Fail Gracefully" • "Don't ask a questions if you won't be able to understand the answer" • Create a character for your bot • Keep it simple • Listen to your users